It's only a few days before the biggest online shopping spree in Australian history, but Amazon's vibrant Sydney warehouse feels eerily serene.
Forget the polished concrete and fluorescent lighting and you could almost swear you were inside a library – there are row upon row of shelves full of goods and employees dragging carts between aisles.
But the largest Amazon warehouse in the country, called a "fulfillment center," is a brutal lesson in efficiency.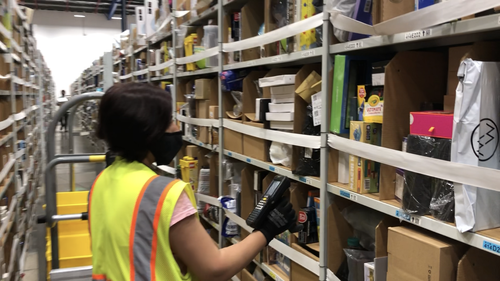 Within its 44,000 square meters totally enclosed (similar to eight rugby fields, I am told) on Sydney's Moorebank there are more than half a million unique products, each with its own barcode.
As soon as a product reaches the docks, it is inspected, weighed, and protected from damage for the remainder of its journey to the customer. Everything is tracked and recorded digitally.
The products are then "randomly" placed on the shelves. Where the staff sees a free space for a coffee machine, some books or a Lego set, the product is placed.
Unlike a brick and mortar retail store, there are no points to creating eye-catching shelving work that might entice a buyer to commit.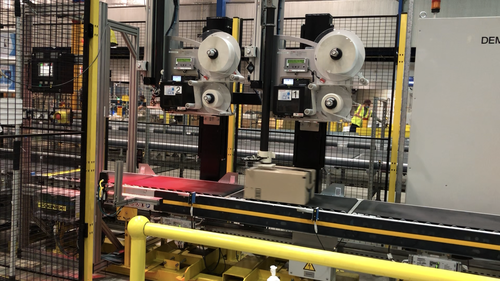 Millions of deliveries and years of refining the backroom of online shopping have shown Amazon that the time spent stacking neat shelves is drastically reduced when an item's location is recorded digitally.
Staff known as "pickers" set out to collect the products from orders a buyer had placed online. To save labor, Amazon computers instruct pickers in what order to select the product and where to obtain it from, in order to create the most efficient route possible between the shelves.
At each stage of the process, employees are asked to inspect the products for damage and make sure they are the correct item from the online order.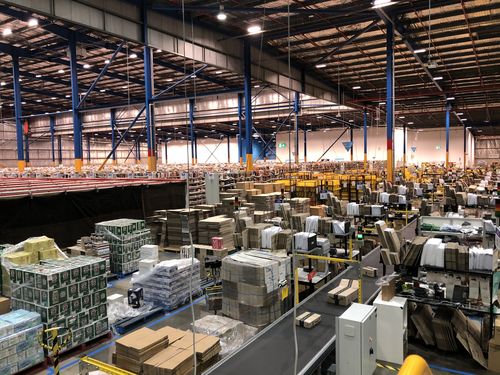 If a product were to fall off a shelf, and perhaps chip a corner of the box, it would be discarded for one that is in perfect condition.
This is what Amazon tells me is called "customer obsession," a spirit that is instilled in employees to prevent carelessness or exhaustion from spoiling what seems like an almost magical way to shop for the end user.
The entire process, perhaps surprisingly, is almost entirely human-driven.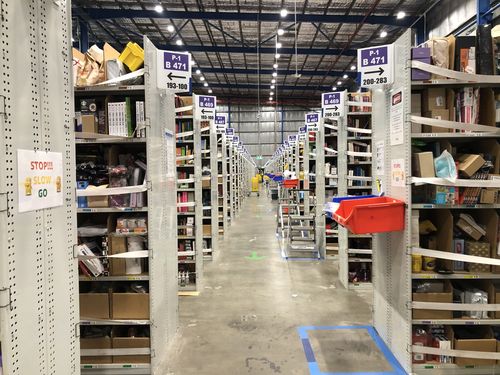 From sorting orders to packing boxes, the only semblance of complex AI technology comes in the final stages, where a pair of sticker-attached robotic arms print shipping labels and "glue" them to the boxes with compressed air to avoid damaging the packaging.
The most impressive feel of the place is its scalability. After what has been almost the most difficult year on record for physical retail, Australians have turned to online shopping with enthusiasm.
Research commissioned by Amazon told them that 49 per cent of Australians increased their shopping online this year, and a staggering 71 per cent reported that they plan to do their Christmas shopping online.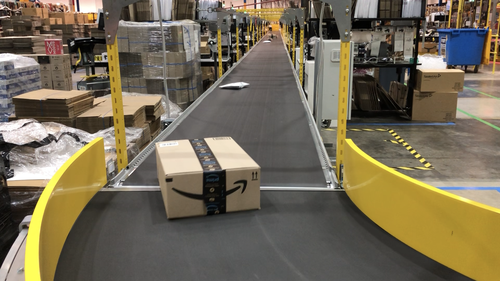 Amazon's Australian COO Craig Fuller tells 9News.com.au that the e-commerce giant expects the holiday shopping season, which is marked by Black Friday, to be a "distinctive" event.
"To meet something like the demand this holiday season, where we expect to ship hundreds of thousands of packages to customers across Australia in one week, we need that network," Fuller said.
"We have been working to get to where we are for quite some time and we anticipate that this will be a hallmark in Black Fridays history."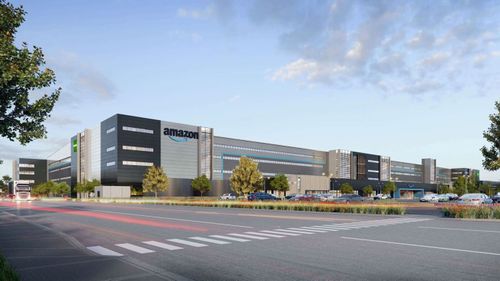 It seems that Amazon's entry into Australia is starting to gain traction. Financial documents filed with the local regulator show that by 2019, Amazon Australia nearly doubled its revenue to $ 562 million.
Planning ahead indicates that this could easily quadruple as Australians move closer to a brand that was traditionally considered available only to Americans.
In June this year, Amazon announced that it would open its first robotics fulfillment center in West Sydney. Relying heavily on robotic manpower, the center would be staggering in size with an area of ​​200,000 square meters, the equivalent of 22 soccer fields.
Such optimism shows a heavy investment in the Australian market, and will no doubt have other online competitors looking over their shoulders and checking their prices as the Amazon giant forges ahead.
Beyond Blue's Coronavirus Mental Wellness Support Service is a free 24/7 service for all Australians.
Visit the site here
or call 1800 512 348
To receive alerts for breaking news about the coronavirus and live broadcasts directly to your smartphone, register at the
9News application
and enable notifications in the
App store
or
Google Play.

www.9news.com.au