At least 14 DC Metropolitan Police officers were injured, including one who was hospitalized after sustaining serious injuries when he was dragged into a crowd and assaulted, Police Chief Robert Contee said.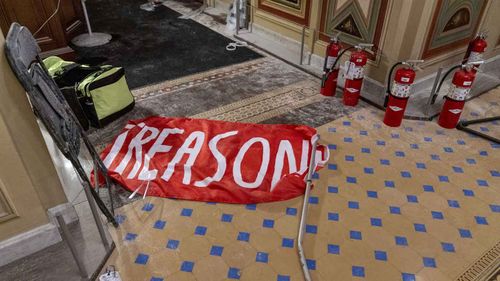 One officer had significant facial injuries from being hit by a projectile, and another officer was hospitalized after being sprayed with pepper spray.
Metro police made 80 riot-related arrests this week in central DC, including 68 arrests Wednesday night, according to a spokeswoman for the mayor. Most were for violations of the mayor's 6 p.m. curfew.
This is what we know about the people who died:
Air Force veteran shot by police
The woman received immediate medical assistance and was taken to a local hospital, where she was pronounced dead.
The authorities identified her as
Ashli ​​babbitt
, 35 from Huntington, Maryland.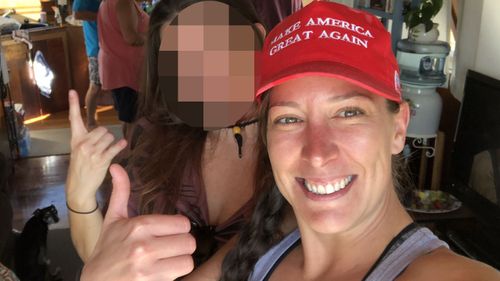 He served as a senior aviator in the United States Air Force from 2004 to 2008 under the name Ashli ​​Elizabeth McEntee, according to military records. He was also a member of the Air Force Reserve from 2008 to 2010 and was in the Air National Guard from 2010 to November 2016, records show.
The employee has been placed on administrative leave and his policing powers have been suspended pending a joint investigation by Metro Police and the USCP, the USCP said.
Ms Babbitt's Twitter account displayed a devotion to the QAnon conspiracy theory, a belief that Donald Trump is secretly fighting a cabal of satanic pedophiles from the deep state.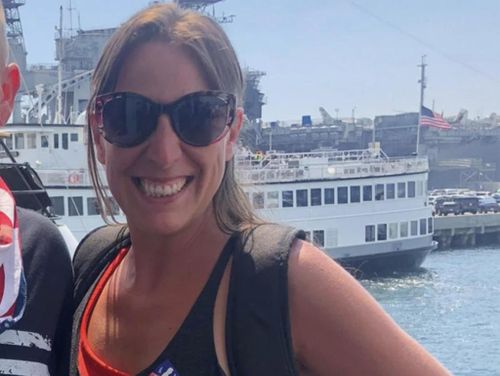 "You can try and prove it, but the storm is here and it's descending on Washington DC in less than 24 hours … from dark to light!" wrote on Twitter shortly before his death.
"This is a tragic incident, and I send my condolences to the family and friends of the victim," said Metro Police Chief Contee.
Two people who saw the shooting, left-wing activist John Sullivan and documentary filmmaker Jade Sacker, provided CNN with video of the incident and described the moments leading up to it.
Sullivan said the rioters were using flag poles and other items to break glass windows inside the Capitol. The woman then tried to fight her way out the window when several people with guns came out the doors.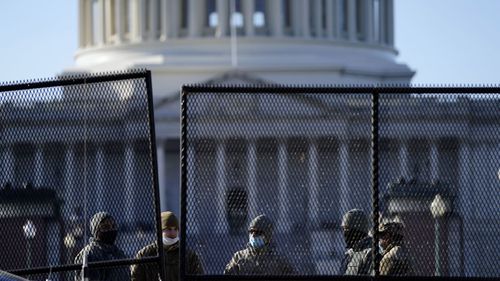 "The moment he climbed out the window, he was shot in the neck area, he fell backward," Sullivan said in an interview that aired on CNN's "Anderson Cooper 360".
"I just remember the feeling of shock and pain that someone just died and didn't have to die."
The woman was trying to enter an area that did not yet appear to have been raped by rioters, Sullivan said.
"It was an area that was completely blocked off," he said. "They had chairs against the entrance, tables, so people couldn't get in."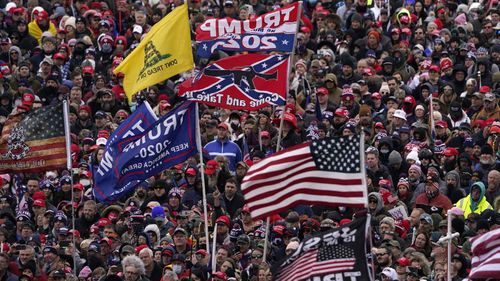 Three other people who had come from out of state died of "medical emergencies" during the riot, police said.
"An adult woman and two adult men appear to have experienced separate medical emergencies, which resulted in their deaths," Contee said.
"Any loss of life in the District is tragic and our thoughts are with anyone affected by their loss."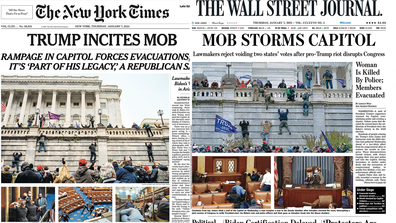 How the world's newspapers responded to the 'Trump hate mob'
Police identified them as Benjamin Phillips, 50, of Ringtown, Pennsylvania; Kevin Greeson, 55, of Athens, Alabama; and Rosanne Boyland, 34, of Kennesaw, Georgia.
All three were on the Capitol grounds when they experienced their medical emergencies, Contee said.
Earlier Wednesday, DC Fire and Emergency Medical Services transported people to area hospitals with injuries ranging from cardiac arrest to multiple fractures after falling from a scaffold on the west front of the Capitol building.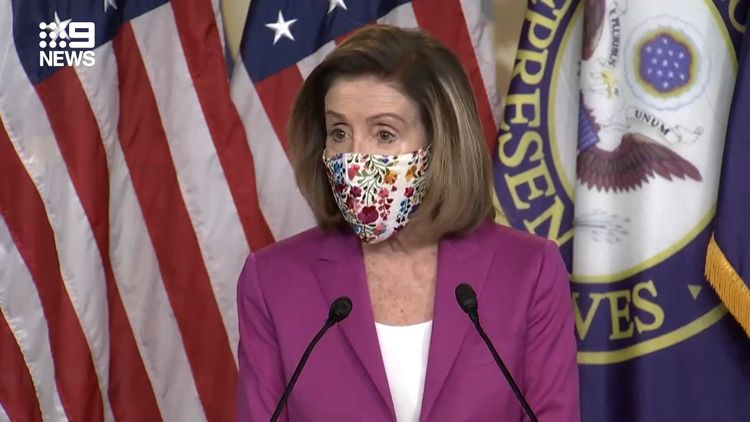 However, city officials did not say if any of these people were the ones who died.

www.9news.com.au