A minke
whale
has been drowned by fishermen 19 days after being caught in nets in Taiji, the coastal city where
Japan
the annual dolphin hunt takes place.
The nonprofit Life Investigation Agency (LIA) has been documenting the hunt since September and filmed the moment the young whale, nicknamed "Hope," was killed yesterday.
A harrowing video shows the whale being herded between two boats in "The Cove."
The fishermen tied a rope around the whale's tail before securing it to a boat. The whale was dragged upside down and kept underwater for 20 minutes.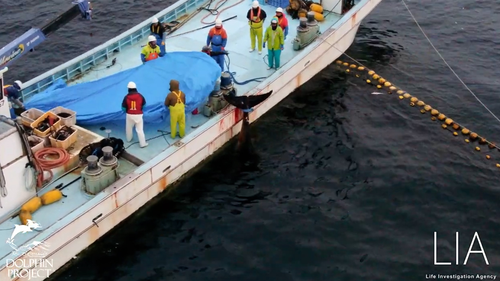 LIA Director Ren Yabuki witnessed the murder.
"It shook violently as the blood splattered, but the fishermen laughed as they worked," he told 9news.com.au.
"I witnessed the agony and my hands were shaking."
The Taiji dolphin hunts are held from September 1 to February 28. Hunting and trapping of nine species is allowed.
Minke whales are not listed as one.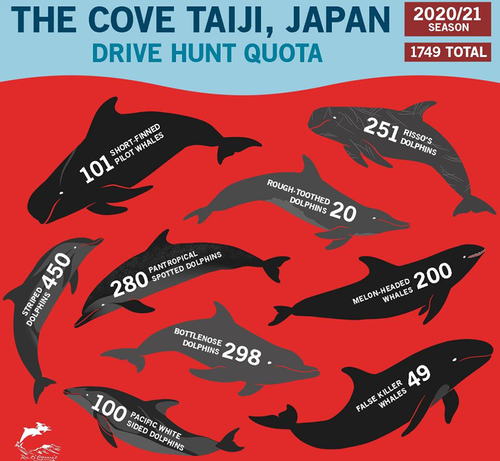 Yabuki explained that the rules on catching minke whales are complicated, as they are a species that is included in commercial whaling.
However, that does not make the killing in Taiji illegal, he explained.
"The killing of minke whales can only be carried out by authorized persons and during the permitted period. However, in the case of a fixed net, it basically has to be released.
"However, Japan has resumed commercial whaling and if minke whales enter the fixed net, they will be allowed to catch them by collecting DNA samples," he said.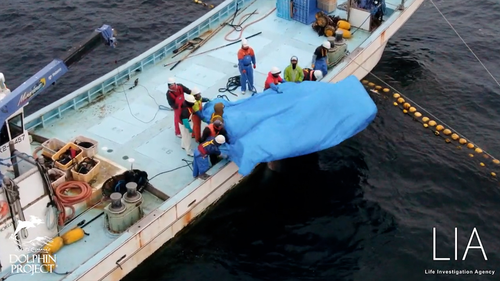 In the days before the whale died, Yabuki said the animal made repeated attempts to escape.
"He was trying to get out of the net by attacking the net over and over, hitting his head and back against the net," he said.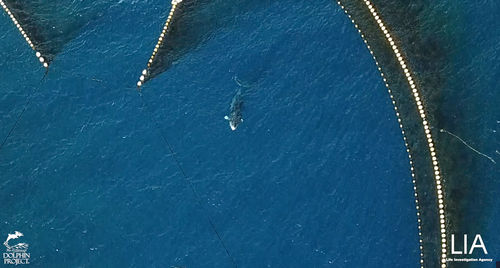 "When Hope realized that was not the case, she began to spin in small circles … the same anomalous behavior as animals in aquariums
"Hope was struggling to live. It was very unfortunate. She was very sad."
Advocacy groups had been calling for the whale's release for weeks, but Yabuki believes the fishermen wanted to kill the animal the moment it was trapped.
He claimed that the fishermen made a 10-minute release attempt on December 24, 2020, the day he was caught.
"During the 19 days they had a good chance of being released," he said.
"The fisherman said, 'the current is so fast you can't let it escape', but there were many days when the current was smooth and the sea was calm.
9news.com.au has contacted the Bureau of Whaling Affairs of the Japan Fisheries Agency (FAJ) for a statement, but has yet to receive a response.

www.9news.com.au