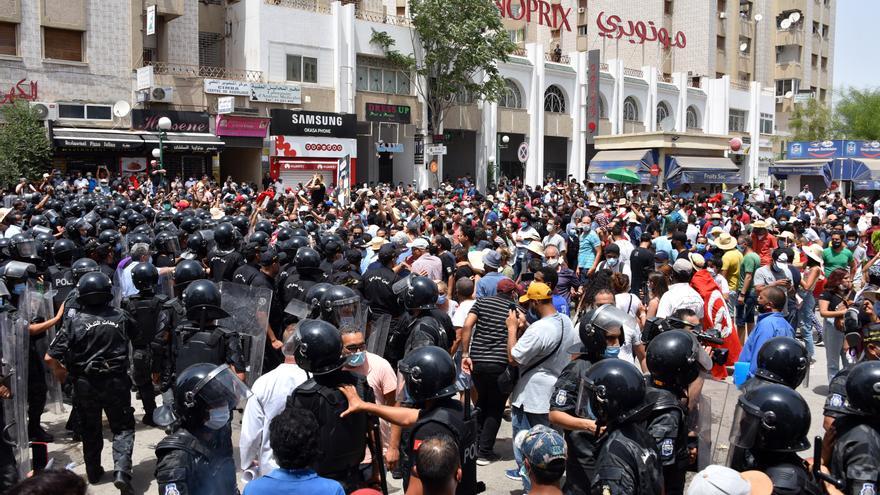 A total of 24 political personalities will face Tunisian justice for alleged "electoral violations" committed during the last presidential elections and legislative of 2019, and revealed by the report of the Court of Auditors, the state agency TAP reported on Tuesday.
The appeal court of the capital announced today that it will prosecute five new perpetrators: the former president of the now suspended Parliament, Abdelfattah Moro; the former Minister of Public Administration and the Fight against Corruption, Mohamed Abbou; the former Minister of Justice, Omar Mansour; the leader of the Free Desturian Party (PDL), Abir Moussi; and chairman of the Al Karama (Dignity) Coalition, Seifeddine Makhlouf.
Two weeks earlier, the Court of First Instance decided the same measure against 19 other perpetrators, mostly presidential candidates and that represent the majority of political formations, among which is the former president Moncef Marzouki; the former president of the Assembly, Rached Ghannouchi; as well as the former heads of government Youssef Chahed, Ilyes Fakhfakh, Mehdi Jomaa and Hamadi Jebali.
Illegal political advertising
The court made this decision at the request of the Attorney General's Office after the control report carried out by the Court of Auditors supposedly concluded the existence of illegal political advertising through social networks and violation of the day of electoral silence, the source explained in a statement.
Last October, this body revealed that it had issued more than 350 decisions on crimes committed by electoral lists and 30 cases related to electoral crimes. According to their classification, these offenses are divided into three types: those committed during the election campaign, those related to the financial transparency and the legal spending limit during the electoral process and, lastly, those related to the advertising and illegal financing.
After decreeing the State of Exception on July 25 -which included the dismissal of the Prime Minister and the suspension of the Assembly indefinitely-, the President of the Republic, Kais Said, has frozen almost all of the 2014 Constitution and it has been done with full powers in order to "recover social peace".
Related news
A decision that has been described by most political parties as "coup", while others consider that it is a "rectification" of the 2011 revolution that put an end to the two decades of the autocratic regime of Zine El Abidine Ben Ali.
Since then, the Justice has opened numerous investigations and has adopted precautionary measures – house arrests and prohibition to leave the country – against senior officials of institutions, magistrates, businessmen and deputies for alleged cases of corruption and others linked to freedom of expression. , which has sparked the concern of human rights organizations.

www.elperiodico.com