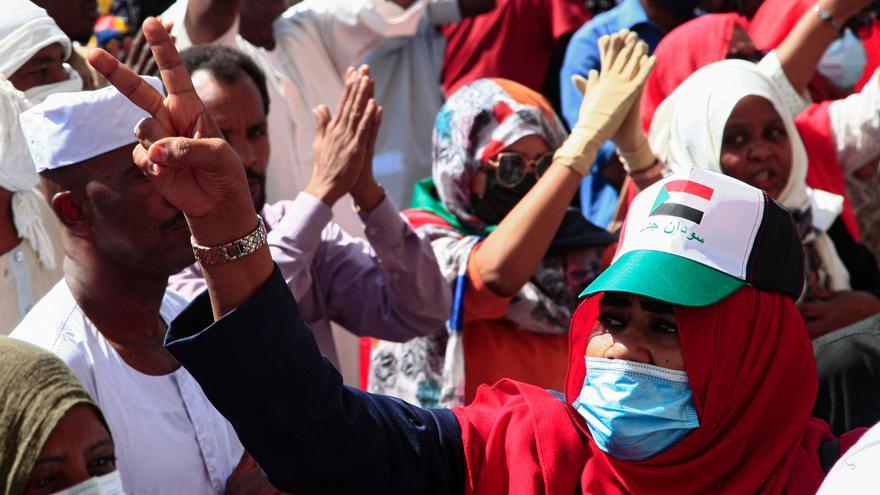 The mobilization protested against the military government that has taken control of the country after the October coup
At least seven civilians have been killed by security forces shooting at protesters during the protests this Monday in a new day of demonstrations against the military government established after the coup. In addition, the Committee has denounced that there are "numerous wounded" by shots that are already being treated by health personnel. With these, there are already 71 deaths due to the military repression of the protests since the October 25 coup.
Related news
The Sudanese Medical Committee has reported these deaths and has denounced this "massacre". "The forces of the military junta continue to perpetrate massacres, facing peaceful Sudanese protesters with lethal force," the Committee has assured through its Facebook page, a usual source of balances of injuries after the demonstrations. "The entire world must pay close attention and take strong action to stop these deliberate and heinous crimes against the people of Sudan, who continue to push peacefully and persistently for a free, peaceful, just and democratic country," he stressed. The military have used tear gas, sound bombs and have opened fire on the thousands of protesters who have marched this Monday to the capital, Khartoum, from the twin cities of North Khartoum and Omdurman. There have also been demonstrations in other cities in the country, according to the daily 'Sudan Ajbar'. Even before the start of the demonstrations there have been numerous arrests of young people and activists from the Resistance Committees in the three cities: Khartoum, Khartoum North and Omdurman. The military have also stormed hospitals in recent days to detain wounded people.
At least 71 people have died from the repression of the Sudanese forces against the demonstrations since the October 25 coup d'état that consolidated the military in power in the figure of the president of the Sovereign Transitional Council and head of the Sudanese Army, Abdelfatá al Burhan. The UN presented a week ago an initiative to open a dialogue process that included the military, for which several sectors of civil society have rejected the proposal, considering that it legitimizes the coup plotters.

www.elperiodico.com