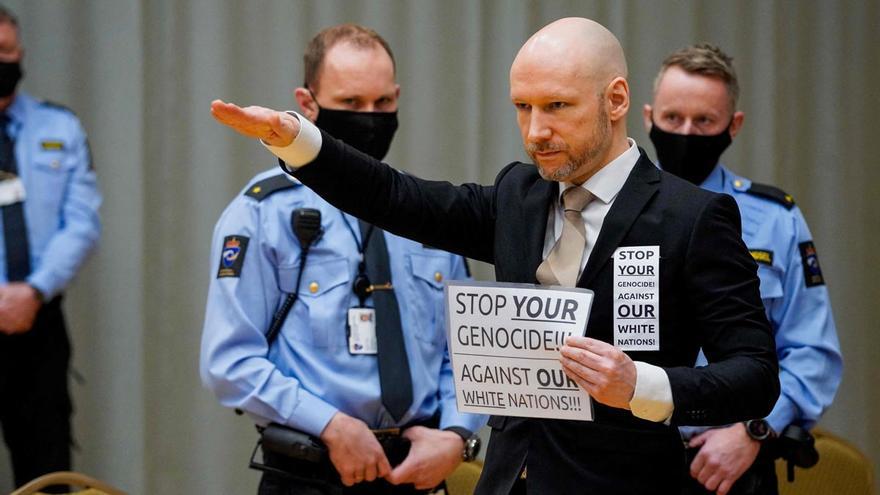 More than a decade after murdering 77 people on the Norwegian island of Utoya, the neo-Nazi requests probation, a demand doomed to failure
A decade after murdering 77 people in Norwaythe right-wing terrorist Anders Breivik will sit this Tuesday in the court of Telemark, west of Oslo, to ask for his release after having served the minimum time of sentence. However, his request is expected to be doomed to failure.
On July 22, 2011, Breivik conducted a attempt with car bomb near the government headquarters in Oslo that killed eight people and two hours later murdered another 69 in cold blood, most of them members of the youth division of the Norwegian Labor Party, on the island of Utoya. It was the biggest tragedy experienced in Norway since the Second World War.
This 42-year-old businessman and declared neo-nazi He has been in prison for a decade after being sentenced to the maximum sentence: 21 years in prison with the possibility of extension. Although his lawsuit will not prosper, the relatives of the deceased fear reliving the nightmare and that Breivik will use the hearing as a political tribune. He already did it during his trial, in which he resorted to the hitler greetings to try to turn each of his appearances into a platform for propaganda of his ideas embodied in the "manifesto" that he spread before the massacre.
unlikely demand
Related news
"As in all rule of law, a convicted person has the right to request his conditional release and Breivik decided to use that right," explained his lawyer, Øystein Storrvik, speaking to AFP. Breivik's sentence establishes that, after a minimum period of ten years in prison, it can be extended indefinitely for as long as he is considered a risk to society.
Experts have pointed out that his request for conditional release has no chance of success. "It has not become less extremist from an ideological point of view," explained Tore Bjørgo, director of the Center for Research on the right wing extremism (C-REX) from the University of Oslo. "Now it looks like national socialist and although he says that as far as he is concerned the armed struggle is a phase that belongs to the past, he did not distance himself at all from the slaughter he committed, which he considers totally legitimate," he said.

www.elperiodico.com