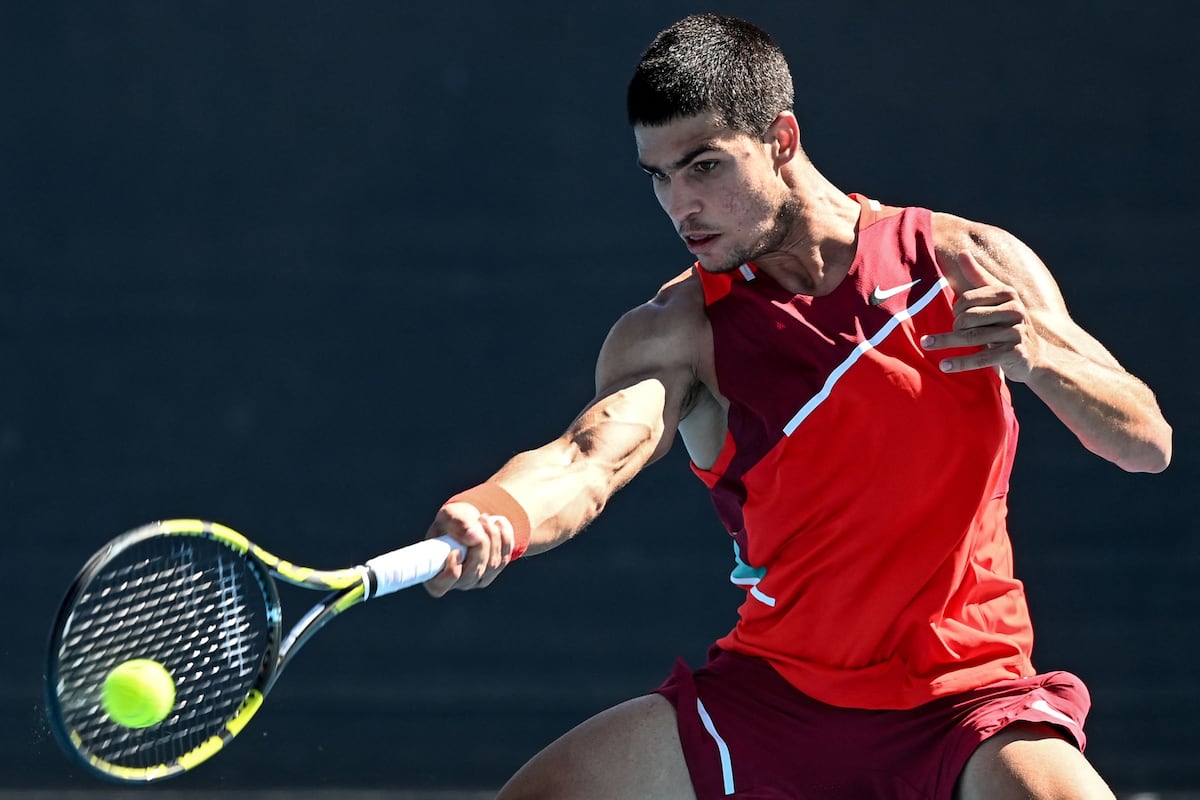 Carlos Alcaraz recounted these days that in addition to having taken the English books and having taken the theoretical driving license – wanting to complete the process to be able to move more easily from Villena (where he trains) to El Palmar (his town )–, took advantage of this last preseason to tone up his body and get stronger. And the result is obvious. "The change has been very brutal," he said on Monday, after passing the first round. Yesterday he beat the tough Dusan Lajovic (6-2, 6-1 and 7-5, in 1h 56m) and is already in the third, in an advance that is accompanied by another notch of precocity: at 18 years and 270 days, He is already the youngest player in that station since the Australian Bernard Tomic landed there in 2011, with 18 and 101.
Alcaraz continues to dazzle everyone with his self-confidence and his quality, with that aggressive and imaginative proposal that Lajovic suffered, besieged from the bottom (27 winners) and also at the net (22 hits in 27 climbs). However, beyond the game, the Spaniard – quoted with Matteo Berrettini, seventh on the ATP list – is impressive for his physical development, for how he has gone from being that Charlie Brown that beardless and for doing that Popeye defined that marks musculature and breaks the ball on each shot. "I have done everything very well during this preseason", he congratulates himself on the discipline and the result. "I have eaten well, I have rested well and I have worked hard with my team", he recites below; "We knew how important it was to be physically fit and, as you can see, we have done it with flying colors".
Methodical and applied, the Murcian (31st in the world) has strictly complied with the progressive plan that his team designed to sculpt him and thus resist the demands of the elite, the long-distance matches that he will meet more and more frequently . For a year and a half he has been shaping himself, but the program goes far beyond weights and irons.
"Actually, this preseason he has hardly lifted any weight. Only during the first week ", Toni Cascales, the shadow of the successful career of Juan Carlos Ferrero, former number one and coach of Alcaraz, and direct witness of the evolution of the young man who causes such a sensation, tells this newspaper.
Between a marathon runner and a sprinter
"On the contrary, we don't want it to become a Hulk because it would not be good, so you have to keep a close eye on it. Carlos has insisted above all on agility work and reaction speed, and on explosiveness exercises with his own body. He has also done quite a few 400-meter series", details Cascales, who speaks of a "natural growth" and says that what is happening now is not new, that the sleeveless shirt model that Nike has awarded the boy for this Open of Australia enhances the feeling of strength and that the real physical leap has come since the last month of April.
"Weightlifting has done, but we were not interested in gaining muscle mass, but rather in getting strong in terms of strength-speed and strength-centric, in developing muscle fibers but speed-oriented, which is what tennis demands today, where everything goes so fast. He has gained muscle, but not much", specifies Juanjo Moreno, the physio who supervises the bodywork of the Murcian in Villena, where the trainer Alberto Lledó also participates fully in the process; The physio Sergio Hernández, now in Melbourne, and Alejandro Sánchez, the coach with whom he started in Murcia, complete the circle. The medical command is Dr. Juanjo López.
"It has infected the internal culture of the team. Everyone [incluido Ferrero, más fornido que cuando estaba en activo] We are very thorough, we live the philosophy of sport a lot and Carlos has internalized it, although it has not been easy because in the end he is still an 18-year-old boy. I had to understand and accept it, and at that age sometimes it's not easy", says Moreno.
The coach highlights the preseason – "six weeks, the most we could–" and emphasizes that the transformation is above all "educational". Now, Alcaraz enjoys sushi or a good piece of fish instead of a kebab. Also avocado and bananas. "Quality fats, proteins or carbohydrates", he lists.
"We want his body to be a hybrid," he continues, "between a 100m sprinter and a marathoner. That is very resistant, but at the same time very powerful. That's the idea. It has a defined profile, with an adequate fat percentage, because if it is too low there is a risk of injury. We quantified, but the goal was not muscle mass, because that can also cause unnecessary stress for him now. In your case, the genetic predisposition is very good and the rest consists of work. In a lot of work", concludes the specialist.
You can follow EL PAÍS DEPORTES on Facebook Y Twitter, or sign up here to receive our weekly newsletter.



elpais.com