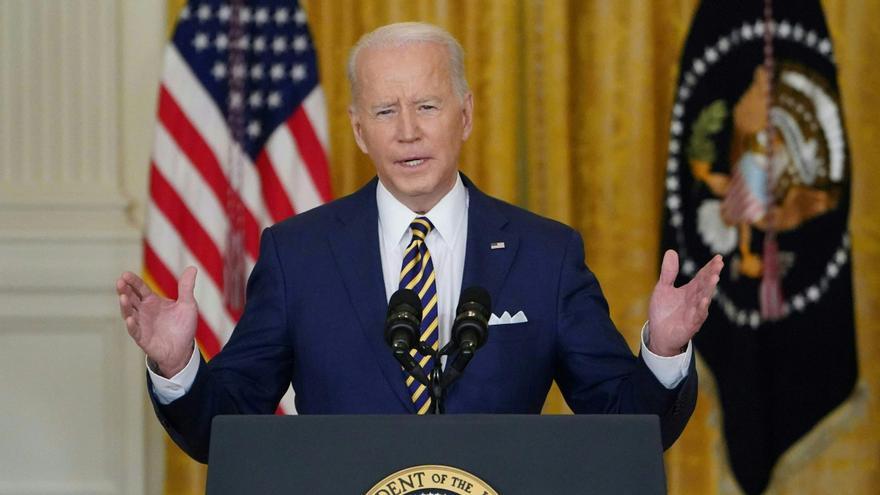 The president's team tries to qualify the comment made at a press conference that has caused "horror" in Kiev
Outside the prepared script, in an appearance before the press that lasted almost two hours, the president of the United States, Joe Biden, has created this Wednesday a storm by suggesting that a Russia's "minor incursion" into Ukraine would have milder consequences than an invasion.
The unexpected and surprising statement, which comes at a time of tense negotiations, has immediately provoked outrage in Kiev. Ukrainian government sources who have spoken to CNN have shown "horror" at the US president's words. "He has given the green light to (Vladimir) Putin to enter whenever he wants," they denounced.
Also immediately the Biden team has started to give explanations trying to refine and clarify the meaning of the president's words. Jen Psaki, the White House spokeswoman, has issued a statement recalling that a military incursion would have a "rapid, forceful and united response from the US and its allies" and ensuring that other actions such as cyber attacks or paramilitary tactics would be consideredacts of aggression" to which an answer would also be given.
Statement from Press Secretary Jen Psaki on Russian Aggression Towards Ukraine

.@POTUS has been clear with the Russian President: https://t.co/vrITMeiv36

— Karine Jean-Pierre (@KJP46) January 19, 2022
Meanwhile, the spokeswoman for the National Security Council, Emily Horne, explained on Twitter that the president "was referring to the difference between military and non-military, paramilitary or cyber actions."
.@POTUS clarified this. He was referring to the difference between military and non-military/para-military/cyber action by the Russians. Such actions would be met by a reciprocal response, in coordination with Allies and partners. https://t.co/vBX7aO5B1d

— Emily Horne (@emilyhorne46) January 19, 2022
Invasion
Related news
Biden was talking about potential sanctions to Russia "like you've never seen" if he invades Ukraine, an invasion that he has personally predicted ("he has to do something", he has even said), when he added that "it will depend" on what Moscow does. "It is one thing if it is a minor raid and then we end up having a discussion about what to do and what not to do, etc., but if they do what they are capable of doing with the forces gathered on the border it will be a disaster for Russia", he said. "Our allies and partners are ready to impose severe costs and significant damage on Russia and the Russian economy."
"I still think that does not want a total war", "I think he has not made a decision yet", "he is trying to find his place in the world between China and the West and I am not so sure that he knows what he is going to do", he has also opined at other moments of the conference Biden, who has been convinced that Putin "will test the US and NATO as much as he can" but has not closed the door to a diplomatic resolution of the crisis. He has, for example, offered to negotiate on the positioning of strategic weapons and has highlighted that Ukraine's potential entry into NATO is unlikely to happen any time soon, two of Moscow's demands.



www.elperiodico.com