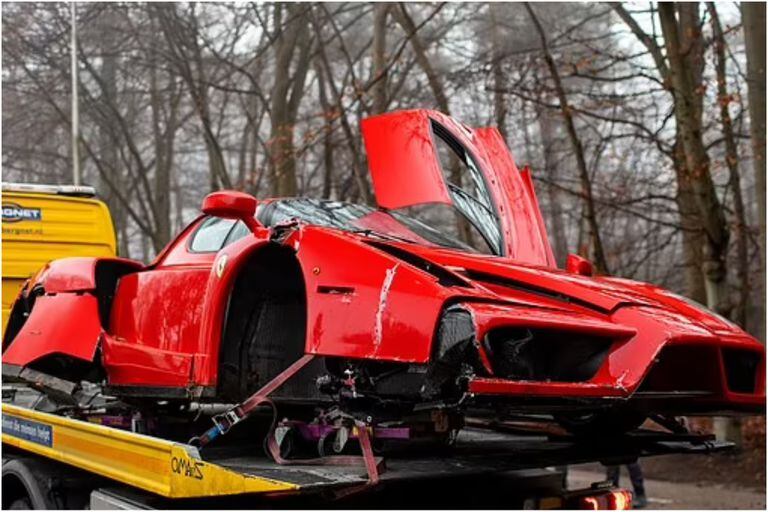 a luxurious Ferrari Enzo, valued at $3.4 million, It was mangled after hitting the base of a tree in the Netherlands.
The accident occurred last Tuesday in the city of Baarn, southeast of Amsterdam, and involved a mechanic who fortunately escaped unharmed, but surely he will never forget what happened to him.
According to the British media Daily Mail, the man, who works at a dealership in Hilversum, had the challenging task of bringing this Ferrari Enzo from which only 400 units were built worldwide, between 2002 and 2004, and of which only three are registered in the Netherlands.
However, according to the testimony of a witness, a bad maneuver made him crash into a tree stump, as the trunk section that remains on the ground, attached to the root, is called when the cut is made close to its base.
The car sustained significant damage in the crash. Its airbags were deployed, much of the interior was destroyed, and two wheels were ripped off along with various suspension parts.. A true catastrophe for sports car lovers.
"The local Ferrari dealership is about two kilometers from the scene. It is a car owned by a client", indicated a witness of the accident, while another witness assured: "He hit a tree stump on the side of the road. It hit it on the passenger side and the stump was damaged." He added: "I'm not sure what happened, but I think he wanted to go back to the dealership."
The weather didn't help either. The weather conditions at that time were wet and cold, with a temperature of about three degrees, an unsuitable combo for driving a 660-hp 6.0-liter V-12 mid-engine car, and also surely had tires more suitable for hot asphalt.
Beyond the statements of the witnesses, it is most likely that the vehicle was owned by the dealer himself, since the license plates are temporary.
Built and named that way in honor of the founder of the brand, Enzo Ferrari, the iconic limited production model has a very modern design and was one of the most powerful vehicles of the 2000s. Production began after the end of production of the F50, in 1998, shrouded in mystery and secrecy .
The then president of Ferrari, Luca di Montezemolo, put an end to speculation in mid-2002 and finally presented the magnificent Ferrari Enzo. In addition, he clarified that the new model was going to have a close connection with Formula 1 racing, since the manufacturer had just won the Manufacturers' Championship in 1999 and 2000 and the Drivers' Championship in 2000. In fact, at that time the great Michael sSchumacher was beginning what would be his historic dominance in F1.

www.lanacion.com.ar