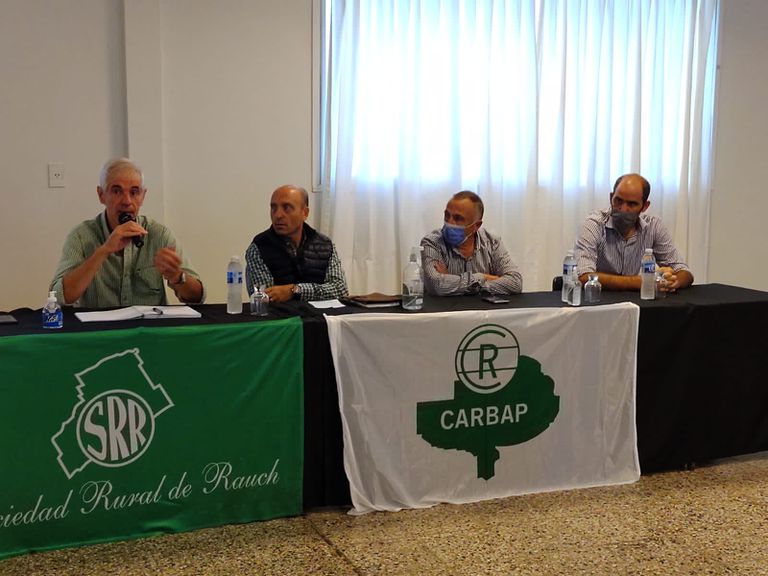 Uncategorized
In the midst of a context of great concern in the sector due to the effects of the drought and the lack of policies towards the sector, leaders of rural entities grouped in the Confederation of Rural Associations of Buenos Aires and La Pampa (Carbap) met to evaluate and debate the latest decisions of the Government and define what the union actions to follow will be. They do not rule out forceful measures, although another meeting remains to be held to define the course of action.
Some 60 leaders of 30 rural societies and associations from the Salado basin, central and southeastern province of Buenos Aires met at the Rural Society of Rauch to participate in the second regional meeting of Carbap. There was a climate of unease. LThose present there described it as "the producers' discomfort with the Government continues."
Strictly speaking, they referred to the decision of the Ministry of Agriculture to establish "balance volumes" that exports cannot exceed at the risk, supposedly, of affecting domestic consumption; the Government's intention to create a trust for wheat and corn, with private contributions to subsidize the sales of flour, noodles and chicken and for the limitations on the export of beef, among others.
"It is clear that these are measures that have been taken in previous years and have never given results. Basically, they are always to the detriment of the producer. That is why, more than concern, what there was was a lot of anger and tiredness.", said Horacio Salaverri, president of Carbap.
The leaders also raised the need to modify the way of relating to the Government. "We have agreed that the sector has not had an effective dialogue with the Government at the national level. It is necessary that we change the characteristics, because it has not given a fruitful result; on the contrary, we have come across resolutions that are totally contrary to the sector", he indicated
In this line, they also agreed that the decision of the Argentine Rural Society (SRA), Argentine Agrarian Federation (FAA) and CRA to withdraw from the Argentine Agroindustrial Council (CAA) was correct.
On the other hand, Salaverri explained that the producers expressed a concern at the country level for the macroeconomy and other issues such as the attacks on Justice such as the march called by sectors of the ruling party against the judges of the Supreme Court of Justice, scheduled for the 1st next February.
These meetings are part of a series of three meetings to discuss and analyze the sectoral and political situation.
"Until we finish all the meetings we are not going to make a final decision, there have been proposals of different characteristics, we do not rule out any force measure, but we are studying the situation. We want to end the zonal assemblies", he detailed.
The next meeting will be held next February in Coronel Suárez for zone 7 and 8, which corresponds to the southwest of Bs As and La Pampa.

www.lanacion.com.ar