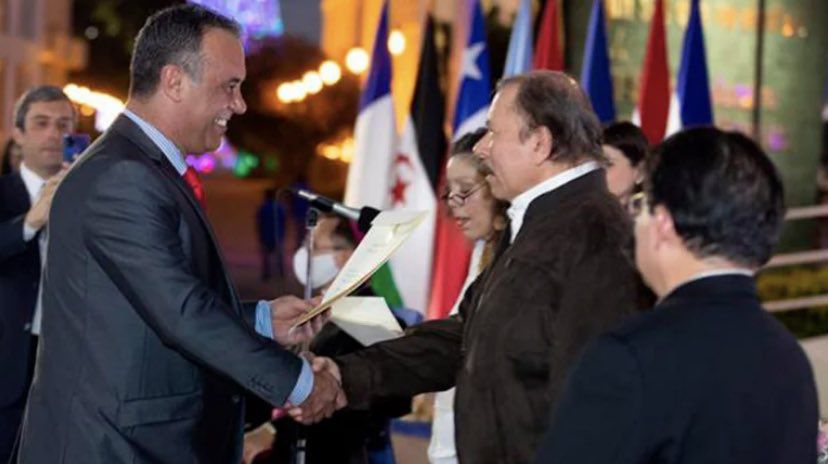 Cao Jianming is one of the fourteen vice-chairmen of the Assembly standing committee National People's Congress of China, and has been sent to Nicaragua to be present at the fourth consecutive inauguration of Daniel Ortega. It is a long journey, from the other side of the world, to a country that has just entered the orbit of the expansive relations of Xi Jinping's new heavenly empire. You will find yourself in a desolate setting, as the ceremony will take place in almost total international isolation. Few are the guests who will attend, most of low level, or mediocre level, like Jianming himself.
Because, his surprise must have been capitalized when getting off the plane he realized that an honor guard was waiting for him, whom he would have to review as if he were a head of state. In a country with strict hierarchies like yours, such a formal anomaly is impossible. But not in Nicaragua. He represents China and that's enough, even if he was an usher in the Forbidden City.
But far from there there is another scene that is also unusual, not to say strange. That same day, January 10, President Andrés Manuel López Obrador appears in one of his "mañaneras", the press conferences that he offers early every day at the National Palace in Mexico City. A journalist asks if his government will send a representative to Ortega's inauguration.
"He still hasn't decided," he replies, rather bewildered. When is… the inauguration?
−Today the journalist informs him.
−Oh… today? He did not know.
The journalist then tells him that the night before the chancellery has announced that it will not send anyone to the ceremony.
−And what time is the inauguration? – asks the president.
−I don't know the time -replies the journalist.
−Let's see if there is time for someone to arrive… because we have good relations With everyone. With everyone −repeats the president−. And we don't want to be reckless.
−Would it be reckless for no Mexican official to attend the inauguration? the journalist continues asking.
Then the president replies that Mexico cannot put aside its politics self-determination of peoples and independence. And remember how the past government, to get along with another government, expelled the North Korean ambassador.
The president was surely aware of the impossibility of an envoy arriving on time, since he has arranged that both he and his officials can only use commercial flights. And the charge d'affaires of the Mexican embassy ended up on the stage of the guests in Managua, since there is no ambassador.
This singular episode has mostly been given the guise of a rather rude disavowal from the president to his own foreign minister, Marcelo Ebrard, who would have sought to join the vast majority of Latin American countries that left Ortega alone in his farce. But it also deserves another read.
And The president of Mexico he doesn't even know when Ortega takes office, and he doesn't know, consequently, the time of the ceremony, it's not that he's just uninformed. What it shows is the null importance that Nicaragua has in its foreign policy, a zero to the left. It may be for this very reason that Foreign Minister Ebrard did not think it necessary to inform him that he would not send anyone to Managua, not even a third-rate official.
And so it is made clear that it had never occurred to President López Obrador to attend himself, invited as he was; or send his foreign minister, or someone from his government cabinet, and thereby demonstrate his closeness to Ortega.
On the contrary, what it does is distance itself, and place Nicaragua in a less privileged position.: next to North Korea. Good relations with everyone, he says, emphasizing the word everyone, that is, democrats and dictators. That is why he reproaches the previous government, that of Peña Nieto, for having expelled the ambassador of the hereditary dictator Kim Jong-un, an event that occurred in 2017.
Y ends by announcing the name of the new Mexican ambassador to Nicaragua, after they have handed you a card with the case information. Prudence advises it.
And speaking of imprudence, Argentina, which did not send any delegate either, had itself represented by his ambassador in Managua, Daniel Capitanich, an enthusiastic Ortega fan, who sat on the same stage as guests of honor as Iran's Vice President for Economic Affairs, Mohsen Rezai.
the character is accused in the Argentine courts of being responsible, nothing less, for the terrorist attack against the Asociación Mutual Israelita Argentina (AMIA), which occurred in 1994, in which more than 80 people died and more than 300 were injured, a crime against humanity. There is an international arrest warrant issued by Interpol against him, and any country is obliged to arrest him when setting foot on their territory. On the contrary, he reviewed the honor guard when he got off the plane.
At the end of the ceremony, there was an endearing family photo in which Ortega, already anointed again, appears together with Rezai himself, the president of Cuba, Miguel Díaz-Canel, and that of Venezuela, Nicolás Maduro. It is the photo that must have unpleasantly surprised the president of Argentina, Alberto Fernández, and in which President López Obrador would never have wanted to be.
The Chancery addressed a diplomatic note to Nicaragua for Rezai's presence, which "constitutes an affront to justice and to the victims of the brutal terrorist attack." A lament, not a protest: "The Argentine Government deeply regrets learning of the presence in the Republic of Nicaragua of Mr. Rezai," says the note, it will not have, obviously, any response.
Y the stage in Managua remains in place, without dismantling, until the next inauguration, when Ortega returns power to Ortega.

www.lanacion.com.ar