Protected by a 6mm neoprene suit, with a hood, rubber boots and gloves, but still shivering with cold, Yago Long kneels on the shore of the lake and gives thanks. He gazes in awe at that 250-square-kilometer mass of ice that he has just peered at, balancing on a board and pushed by a small sail.
"I still feel that energy, I feel it in my body," he says two days after his feat and while his cell phone does not stop vibrating with the repercussions of the videos and photos he uploaded on Instagram.
While the rest of the country burned in a heat wave, Yago sailed on a wing foil in the Channel of the Icebergs of Lake Argentino, under the shadow of the imposing Perito Moreno Glacier. Wing foiling is a new sport that combines elements of surfing, windsurfing and kitesurfing. It uses a sail and a board mounted on a wing that, when gaining speed, raises it above the water. Yago was the first to foil – that's what this new way of sailing is called – in front of the glacier. The voyage was the biggest milestone in his nascent career as a nautical adventurer and environmental warrior. "As an athlete and as a sailor, I want to give everything I can to take care of the water, which is what I always enjoyed," he says in a video he recorded seconds after leaving the water, with a snowstorm in the background.
Yago is 33 years old and is the eldest son of Santiago Lange, the triple Olympic medalist and eternal sailor who, at 60, is currently training to try to qualify for the 2024 Paris Olympics.
That family legacy meant that Yago was always close to the water. He followed in his father's footsteps and, alongside his brother Klaus, competed at the Rio Olympics in 2016. They placed seventh in the 49er, the most athletic of the sailing classes.
After that promising debut, Yago and Klaus continued training and competing with the goal of being in the Tokyo Games, but they did not qualify. "We worked with Klaus for eight years and we were close, but it didn't happen," recalls Yago about that truncated process. During the Tokyo competitions, in which his father did participate, he went into exile in Bariloche and watched the events intermittently. "I had an internal pain," he recalls.
From that frustration, however, came the impulse that turned him first into a promoter of environmental causes and then into a nautical adventurer. Yago began timidly, summoning volunteers through social networks to clean segments of the north coast of the Río de la Plata, where plastics and all kinds of garbage are collected. The initiative was a success and the cleanings were becoming more and more massive. He multiplied the experience with talks in schools on the protection of nature. In 2020, confined by the pandemic, he began to push community composting projects.
With curiosity and the tone of a tenacious and well-intentioned apprentice, Yago recounted his process on Instagram. The social network functions as a diary of their environmental journey and a space for militancy. From there, he pushes sustainable consumption schemes and love for nature. His postulate is simple but effective. As a sailor, water has always been his playground and, tired of seeing rivers and seas full of garbage, he seeks to raise awareness for its protection. "I didn't go to the Tokyo Games, but this path I took a few years ago fills me with pride," he says.
The break with his competitive drive and high performance was, for the moment, complete, but not his passion for water. A year ago Yago discovered the wing foil and was able to reconnect with his favorite medium. "The foil gave me back that energy that I always felt in the water," he explains.
Unlike the Olympic disciplines where he competed, where method, preparation and performance prevailed, the spirit of foiling is freer, similar to that of surfers. This playful approach is in line with the current spirit of Yago, who with the pandemic settled on the outskirts of Mar del Plata. "I want to be close to nature and learn from it," he explains.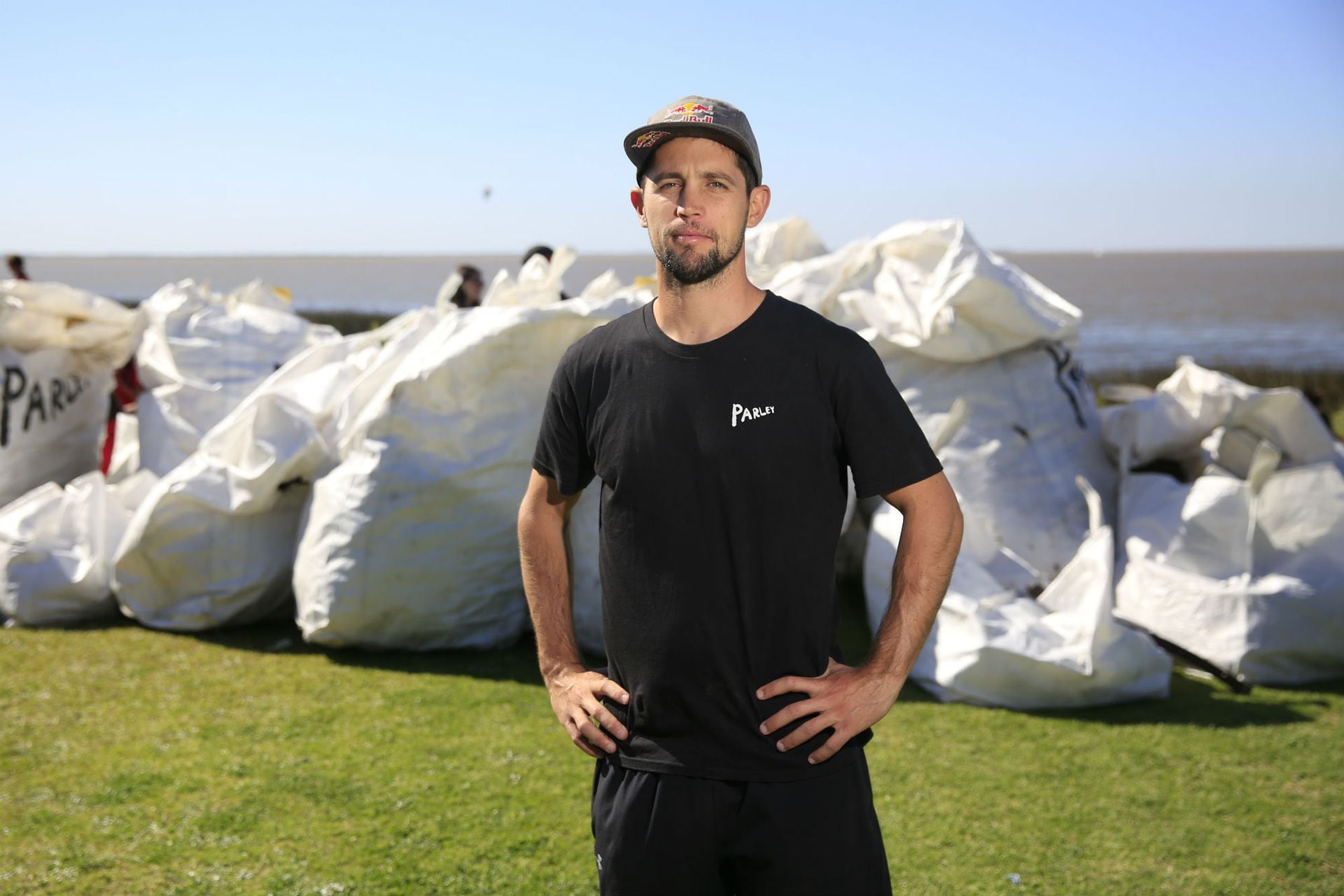 During those days of surfing and wing foiling, he devised the project of sailing in protected natural areas and remote places to document his adventure and create ecological awareness. The idea is that it is easier to take care of what is known. Through his videos on Instagram, Yago seeks to bring glaciers and other water mirrors closer to as many people as possible.
The last of his adventures -which had the support of Parley, an NGO that works to protect the oceans- began on December 25 when Yago started a car trip to Bariloche. There he joined Marko Magister, a photographer with whom he had already made other expeditions and with whom he formed an oiled travel and work team. They received the year sailing with a storm on the Nahuel Huapi, a foretaste of what awaited them in Calafate.
Together with Marko and his girlfriend, Mía Morrone, on January 7 they set out for the glaciers. They traveled by car and slept in tents, shelters or inns. They looked for lakes where they could sail and on January 10 they reached Calafate. There they began negotiations with National Parks to authorize them to navigate in the glacier area. Meanwhile, Iago was studying the wind forecast and getting ready for the adventure. "All my competitive experience helped me to plan and not make mistakes," he says.
Last Saturday, at 7 in the morning, Yago and Marko were already on the coast, waiting for the forecast wind window. "I sailed concentrated and with confidence. I really enjoyed myself and was very aware of my body and where I was," she recalls.
The posts on social networks of his adventure exploded and Yago is already planning his next environmental expeditions. He wants to sail in the Miter Peninsula and the Isla de los Estados, in Tierra del Fuego, and in Antarctica.

www.lanacion.com.ar