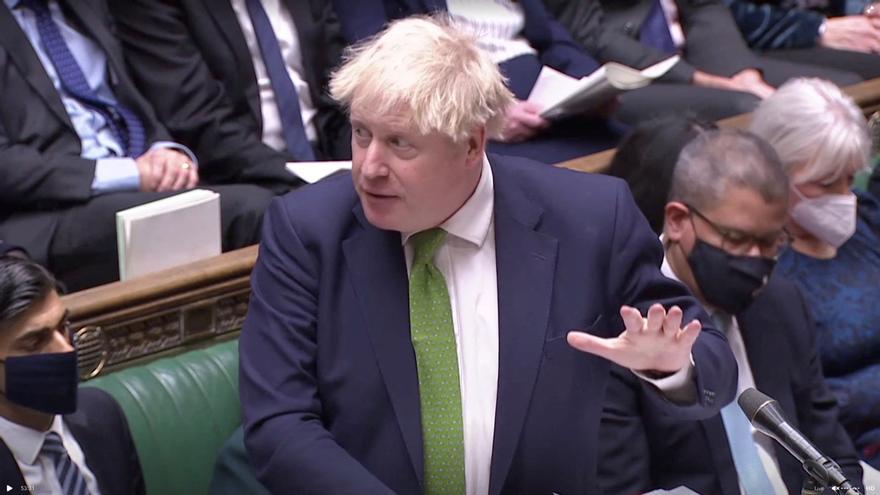 It is the scandal that does not stop and that is about to precipitate a political crisis in the United Kingdom. The first Minister, Boris Johnson, celebrated her birthday with a "surprise" party during the first covid lockdown in 2020, in the latest in an endless series of revelations about receptions and parties at the Downing Street official residence and other ministerial departments, when the country was under severe restrictions.
According to the exclusive of the television network ITV News, Johnson's wife, Carrie, collaborated in organizing the birthday party for her husband on June 19, 2020, in the room (Cabinet Room) where the Government usually meets. Indoor social gatherings were banned in the UK at the time.
Cake and voices in choir
More than 30 people attended the agape, which began after two in the afternoon when Johnson returned from a visit to a school in the English county of Hertfordshire. Carrie Johnson and the head of the controversial wall art of the couple's apartment, the designer Lulu Lytle, they presented the prime minister with a cake and all those present sang 'happy birthday' to him. At that time it was not allowed to sing in public due to the danger of contagion and all choirs were prohibited. The party lasted between 20 and 30 minutes. The spokesmen of the 'premier' affirm to mode of justification that the prime minister was only "10 minutes". Nine days before that party, on June 10, Johnson had asked the public to "continue to respect the rules" designed to keep people "safe."
According to ITV among those present was Johnson's private secretary, Martin Reynols, who the month before had invited 100 staff members to a party asking them to bring their own drink and in which Johnson stayed for almost half an hour, by his own admission. Also in attendance were Jack Doyle, Johnson's current director of communications, and chief operating officer Shelley Williams-Walker.
Related news
decisive investigation
The latest scandal coincides with the investigation being carried out by the senior official, Sue Gray, whose conclusions could be known this week. On Monday, former adviser to the prime minister, Dominic Cummings responded in writing to Gray's questions, because he fears, he said, that otherwise Johnson leak your testimony. The official, who is working with a team of six people, has questioned the police on duty at the official residence and has obtained the data of daily entries and exits of each person who had access to Downing Street and other official buildings. research is decisive for the future of Johnson, with his colleagues from the Conservative Party pending the conclusions to decide whether to present a motion of censure against the leader.

www.elperiodico.com