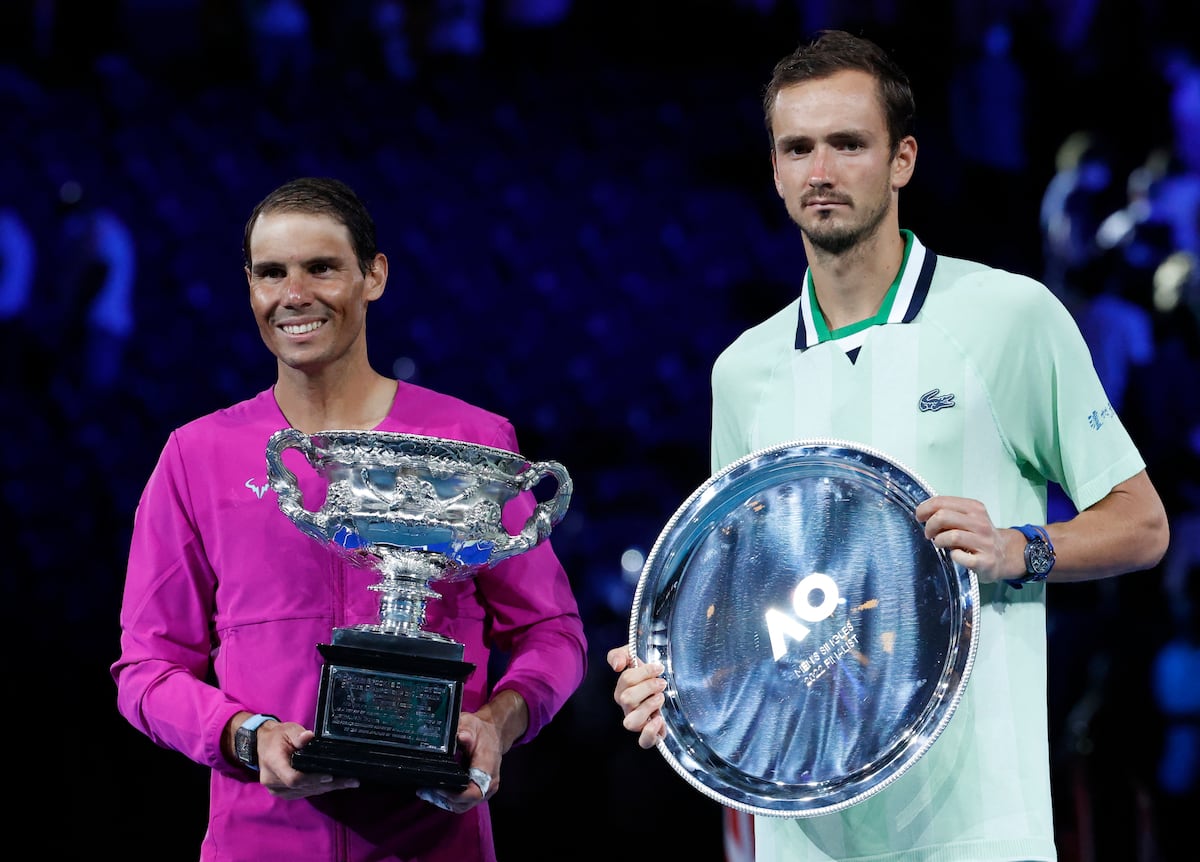 At first, Rafa Nadal responded to the gesture with disbelief, as he dropped the racket, put his hands on his face and began to laugh near the net, waiting for his rival to arrive to shake his hand, to congratulate him for what he had just finished. to do, as he came back from two sets down in an entire Australian Open final. Later, the nervous smile turned into effusiveness because he took off the ribbon from his hair and celebrated with the stands, fist raised three times, the victory that makes him have bigger (21) than any other tennis player in history, one more than Federer and Djokovic. And the third phase of feelings came to him immediately, as he released the adrenaline and emotion with tears, among other things because a month and a half ago he did not know if he would be able to play tennis again due to a foot injury. He did and has already made history again. "No, I didn't know if I could," acknowledged Rafa Nadal at the foot of the track, excited beyond measure and to the cheers of the fans; "It's incredible to have returned to the tour and now be in front of you and with the trophy in hand."
This is how Toni Nadal, Rafa's uncle and former coach for many years, understood it: "What has happened is almost a miracle. Three days before the trip, he didn't know if he would be able to travel, and he did it more out of a desire to compete than thinking he could do well." But he has done wonderfully, the best in Australia. "After five and a half hours, I have lost but I have no choice but to congratulate you Rafa", Daniil Medvedev conceded at the trophy ceremony, in the one in which Rafa asked him seconds before to sit in a chair because he couldn't take it anymore. "But are you tired? I asked him…", confessed the Russian; "Well, I'm a little tired too… No, seriously, I think you've had a great match, congratulations on your 21st title in a major and for showing that the rivalry between you, Novak and Federer is not over yet". Rafa returned the compliments: "During tough times, you have proven to be a great champion. I have no doubt that you will have this trophy more than once in the future." And he expanded: "Really, it has been one of the most exciting games of my career. An honor to share it with you because it is also one of the most exciting moments of my career".
Medvedev was not so happy, that he did not accept compliments from the organization. "Maybe some fan of mine has broken the TV today, but I appreciate the support. Next time I'll try to do better." Rafa doesn't know if there will be that next time. "Now I'm excited and I'll do my best to get there!" He resolved while the fans went crazy. Something he never allows himself. Something that he demonstrated after giving the lap of honor and before the press conference before the media because he got on a stationary bicycle for about fifteen minutes… Although he made a break because the former player Rod Laver and Nadal appeared, always polite and respectful of the story, she got down to hug him. Some time from now, it is not known how long because it was not known if he would play tennis again, the tennis players will get off the bike to pay tribute to him. More than anything because nobody has more Grand Slam laurels, the only one with Djokovic capable of winning the four majors at least twice.
You can follow EL PAÍS DEPORTES on Facebook Y Twitter, or sign up here to receive our weekly newsletter.



elpais.com