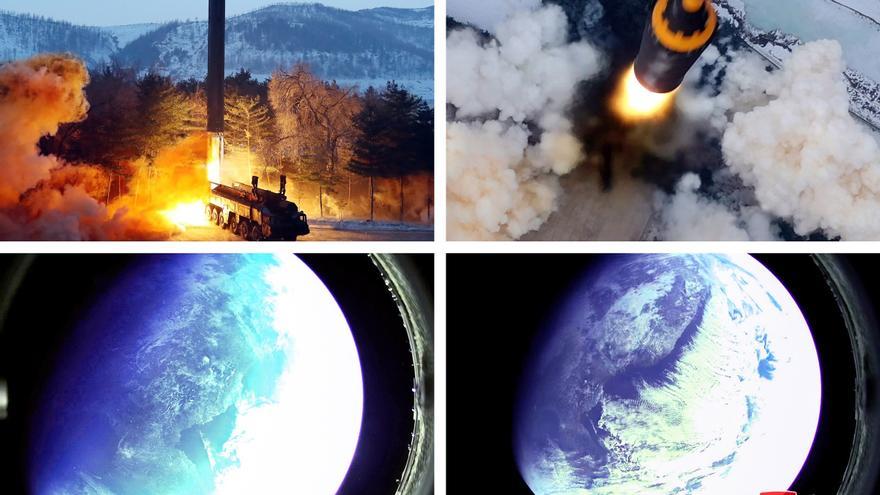 The projectile, which traveled more than 800 kilometers into the Sea of ​​​​Japan, was emitted in the seventh launch made by Pyongyang so far this year.
The north korean media have distributed this Monday the images supposedly taken from intermediate range missile (IRBM) launched by the Government on last Sunday, in which it is already considered its biggest demo of this type of weapon since 2017. The Photographs, published this Monday by the North Korean newspaper Rodong and by the state news agency KCNA, show the missile taking off from a mobile shuttle, a aerial view of it and two other images in which you can see the earth from the perspective of the projectile. The latter "were taken from space by a camera installed in the warhead of the missile" and distributed by the North Korean Academy of Defense and Science, said the regime's propaganda outlet.
weapons test
Related news
North Korea had already distributed photos taken with this same perspective in an earlier launch in May 2017 with another model of intermediate-range missile, the Pukkukksong-2, according to Ankit Panda, a researcher at the Carnegie Endowment for International Peace, in your Twitter account. The last weapons test in the North took place with a misil Hwasong-12 and allowed to confirm "the accuracy, safety and effectiveness" of this projectile, according to KCNA. said projectile traveled 800 kilometers to him sea ​​of ​​japan, called the East Sea in the two Koreas, and would have reached a maximum altitude of 2,000 kilometers without entering the waters of the Japanese exclusive economic zone or reporting damage, as confirmed by the Japanese government.
In addition to being the North Korea's seventh missile test so far this year, last Sunday's test represents that of longer range carried out by the North Korean regime since November 2017, when it launched an intercontinental ballistic missile (ICBM). This new test of weapons material, which, like those of recent weeks violates the resolutions of the United Nations Security Council and it increases the fear that Pyongyang will put an end to the moratorium on intercontinental missiles and nuclear tests that had been imposed in the denuclearization dialogue process.

www.elperiodico.com