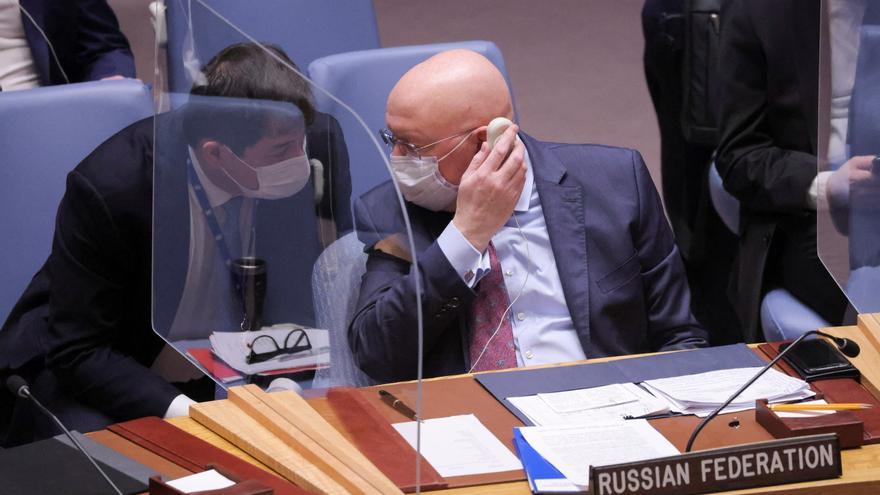 The ambassadors of the two countries have engaged in mutual accusations about the crisis in Ukraine
Russia and the United States (USA) clashed this Monday at the United Nations (UN) Security Council due to the concentration of Russian troops on the border with Ukraine and the fear of an invasion of the former Soviet republic. "This is the largest (…) mobilization of troops in Europe in decades," said the US ambassador to the UN, LindaThomas-Greenfield. "And as we speak, Russia continues to send more troops and weapons"to reinforce them, he added.
Thomas-Greenfield has also stated that Russia's military build-up adds to the "aggressive rhetoric" that Moscow has used since it invaded Crimea in 2014 and has accused the Kremlin of planning to send 30,000 troops to Belarus in the coming weeks as part of his threats to Ukraine.
Russia has tried to prevent the 15 members of the Council from giving the green light to this meeting. The Russian proposal has had the support of China, but has been rejected by 10 of the 15 members. The US is trying to "generate hysteria" and "deceive the international community" with "unfounded accusations" about an alleged attack by Moscow on Ukraine, the Russian ambassador to the UN, Vasily Nebenzya, has pointed out.
The Russian diplomat has denied that his country intends to invade Ukraine and that it has 100,000 soldiers deployed near the border with the neighboring country. "There is no planned invasion, nobody has said it, quite the opposite," he pointed out. In your opinion after that information hides "a hoax to public opinion" in order to "brainwash Ukrainians and impregnate them with Russophobia".
military budget
Nebenzia recalled that while Washington accuses Moscow of deploying troops near Ukraine, the US has 700 bases and 165,000 soldiers deployed around the world, 60,000 of them on European soil, and the volume of its military budget is twelve times greater than the Russian, he has assured.
Related news
"That is indeed a threat to peace and security," he stressed. According to the Russian representative, Western countries supported "a coup in 2014" in Ukraine, "which brought Russophobic fascists and Nazis to power (…) Ukrainians are being brainwashed, they are imbued with Russophobia and they are told that they must join the European Union and NATO at all costs, in addition to abandoning Russian, which is the mother tongue of many citizens, and causing division in the Orthodox Church".
The rude ambassador has not waited for the Council meeting to end and, pretending he had another date to prepare for the Russian presidency of the Council (which begins tomorrow), he got up from his chair and left the room without finishing the debate, a debate that, moreover, ended without any document being signed.

www.elperiodico.com