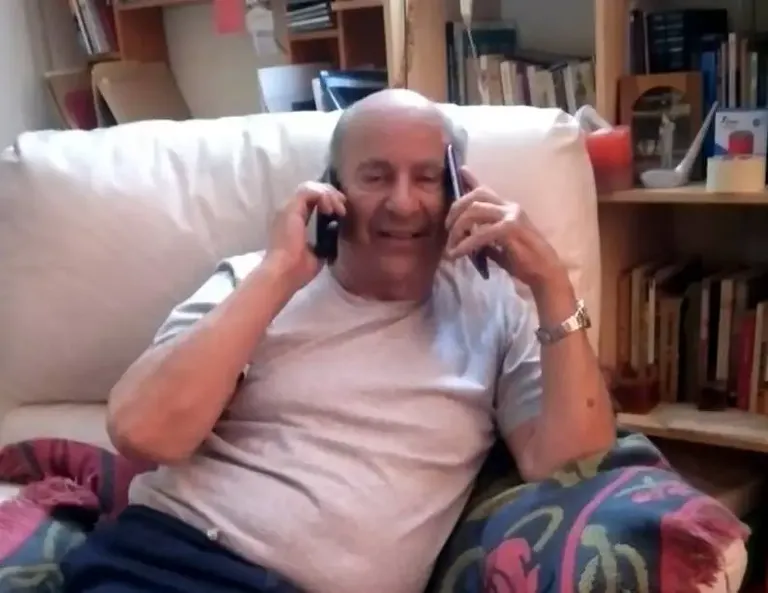 Ehe renowned broadcaster and journalist Wilmar Caballero died of Covid last Thursday in Las Grutas, Río Negro, where he lived his last years. Born in October 1941 in Rivera, Uruguay, in his adolescence "Willy" -as he was known by his friends and colleagues- chose to live in Argentina, where he developed his entire career as a more than six decades in media.
Caballero was the bearer of a warm voice and calm speech, qualities that allowed him to participate in the early years of AM radio in Buenos Aires. Among his most notable works are the sports broadcasts of José María Muñoz and Dante Zavatarelli on radio Rivadavia AM 630. In addition, he contributed his careful locution for innumerable commercials on radio and television.
In the 1970s, Willy was a promoter of National Rock with the creation and leadership of the historic program Alternative in the disappeared Radio Antarctica. With that shipment, Caballero became the presenter of the two emblematic recitals at Luna Park for the farewell of Sui Géneris. On the nights of September 5 and 6, 1975, he read the phrase (some give León Gieco as its author) that was burned into the records of Charly García and Nito Mestre: "Goodbye Sui Generis, have a beautiful life, Wilmar Caballero fired them."
His work and his quality allowed him to win enviable friendships in the media, such as that of León Gieco himself, his compatriot Víctor Hugo Morales or Juan Alberto Badía, with whom he shared an almost religious admiration for The Beatles.
At the end of the 1980s, Wilmar Caballero settled in Tierra del Fuego – where he was part of Radio Fueguina – "where he dressed numerous radio stations with his elegance and hierarchy and even Channel 13 of Río Grande, where he hosted a program called "Where They Come From". There was only talk (not without a high share of mystery and suspense) of UFOs and phenomena impossible to explain.
He was also a correspondent for the newspaper Clarín for Tierra del Fuego and Santa Cruz.
In 2010 he decided to return to Las Grutas, where he managed his own radio station and made special broadcasts from the Rio Negro beach.
As confirmed to local media in Rio Negro from the Las Grutas hospital, Caballero died after contracting coronavirus. He was already suffering from a respiratory disease (forcing him to carry an oxygen backpack).
The memory of Alberto Fernandez
When the 100 years of Argentine radio were celebrated, in August 2020, President Alberto Fernández reminded Wilmar Caballero: "I have different moments of radio memories, if you ask me what memories I have of my adolescence, I remember a program that I heard that it came out, on weekends, at noon, that it was called "Alternativa" and that it was the only program that, at that time, played national rock music, what was called progressive music, that it was hosted by a man, whose name was Wilmar Caballero, who ended up being a correspondent for Clarín in Santa Cruz many years later. One day I went to Santa Cruz, as chief of staff, and he asked me to do an interview and I asked him what his name was and he told me and I asked him if he was the host of "Alternativa" and the guy froze. Of course, he never thought that I was part of those teenagers who listened to him then.

www.lanacion.com.ar