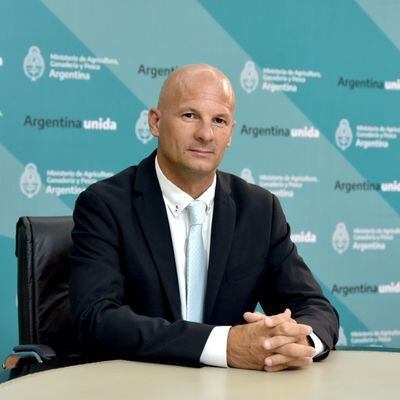 The Secretary of Agriculture of the Nation, Matías Lestani, recognized that this portfolio set up meetings with the dairy industry to avoid "untimely measures as there were in other areas last year."
Lestani, who is second to Minister Julián Domínguez in that area, spoke in this way after a meeting that took place last Thursday in that ministry with the export dairy industry.
as reported THE NATION, In recent days, concern has been generated in the industry due to alerts that, according to sources in the sector, came from the area of ​​the Ministry of Internal Trade. It so happens that there the message would have been passed on that if there was any problem with the supply, measures could be taken. Immediately, fear of an intervention flared up.
As Lestani pointed out in statements to Radio Colonia, sectoral meetings are held from the Ministry of Agriculture and part of that agenda is with the dairy chain.
"We started to work in work groups with each sector, part of that is to sit down with the dairy chain, although the Government has been working a lot on that issue," he pointed.
In this context, he stated: "The reality is to interact and avoid untimely measures as there were in other areas last year."
It is worth remembering that last year the government temporarily closed corn exports and then moved forward with a clamp on beef exports. Lestani, who before jumping to Agriculture was in the Economic Department of the Argentine Rural Confederations (CRA), at the time from ruralism participated in various technical meetings to unlock the restrictions on meat.
Last January he became Domínguez's second, replacing Jorge Solmi. "My thing is to sit down, see how the production is, what the industry thinks and from that point of view look for technical solutions", he explained. "I think of a chain and if one link gets stuck there is a problem in the rest," he added.
"We sit down, there are scheduled meetings with the rest of the chain to interact, monitor", he claimed. Then he indicated that "it was the milk" due to the previous meetings that the Commerce area had.
Asked if as an official he is in favor of an intervention, Lestani pointed out: "Not at all. This is what these meetings are for, to technically enable decisions."
For his part, Ércole Felippa, president of the Center for the Dairy Industry (CIL), pointed out that as a sector they have been working on an "improving proposal", similar to one that was in force since May of last year. At that time, a significant volume of product in milk equivalent was available in agreement with the Domestic Trade and Agriculture portfolio, among other things in exchange for no interventions.
"As a camera we were not notified formally or informally before a possible measure of this nature (about an intervention), it is true that there are a series of alarms in this regard due to a series of issues that are taking place in the sector", he pointed.
In this context, he indicated: "I think it is important for those who have to make this type of decision to correctly interpret the available information generated by the private sector. Part of these rumors that are going around have to do with an erroneous interpretation of data, of information."
In this regard, he pointed out that "it is not real" that there is a drop in dairy consumption. "Dairy consumption remains the same, it has grown slightly in 2021 compared to 2020. There has probably been a shift in the channels of some products, brands, but when the total consumption is measured, Argentina is above 187 liters per inhabitant. per year, above what the World Health Organization suggests," he said.
As detailed, at the local level "the tremendous heat wave in January accentuated the seasonality" that production usually has.
"The supply is guaranteed, there will be no lack of milk", noted however. Meanwhile, he pointed out that regarding prices when behavior is analyzed, these grew more to the consumer than what they did when they left the factory. In the last year they rose 19% more to the consumer than the increase to the exit of the companies.
"We have been working as a sector to propose a superior proposal, we understand the concern for food," he said.

www.lanacion.com.ar