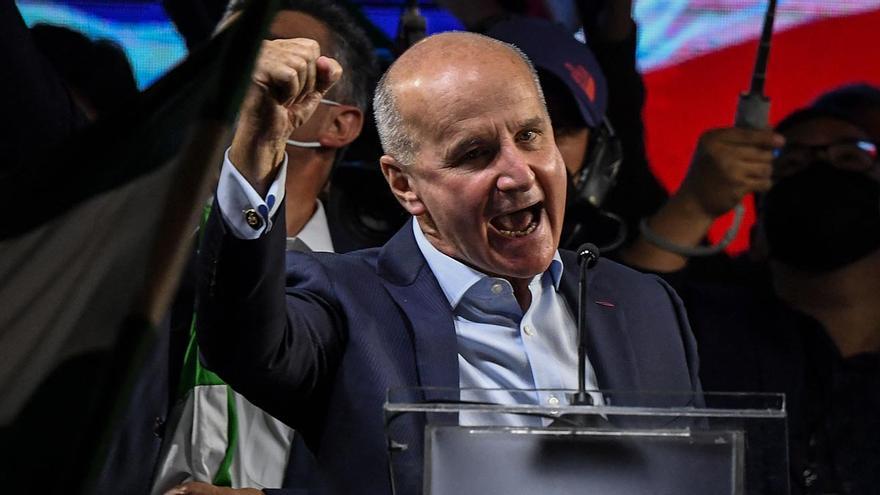 Costa Rica you will need one second round next April 3 after one hard-fought first round this Sunday won by former president José María Figueres, followed by the economist Rodrigo Chaves, who became the big surprise of these elections. With 63.9% of the tables counted, Figueres, former president between 1994 and 1998, obtains 27.4% of the votes, while Chaves has 16.7%, and the evangelical preacher Fabricio Alvarado adds 15.4%, according to the results of the Supreme Electoral Tribunal (TSE).
The abstentionism reaches 40.7%, which would be the highest number in the history of the country. There will be a second round next april 3, since none of the candidates reached the 40% necessary to succeed this Sunday. For the third consecutive election, Costa Rica will need a second electoral round to choose the president.
Figueres he declared himself the winner of the first round "by a robust margin" and thanked Costa Ricans for supporting his project to "lead the rescue and transformation of our Costa Rica." "Today was a huge triumph for our democracy. Today Costa Rica won, nor did the pandemic break the civic spirit of our people. The responsibility of moving our country forward was stronger. Today we shine again in the world," Figueres declared. The 67 year old candidate He criticized the "improvisation" of the recent governments and assured that he will work so that Costa Rica "has a government again."
For its part, Chaves, 60 years old and from the Social Democratic Progress Party, celebrated his passage to the second round and thanked his family and the voters for giving him their support for a new party.
"We are going to a second round, yes, the new party, the youngest of this campaign, but we are going to leave behind the fires, the conflict, the sterile confrontation," Chaves declared in a speech. The candidate, who became the surprise of these elections, thanked the voters for their support in what was "a democratic civic party like few nations in the world can afford."
no irregularities
"Our challenges as a country and society are enormous and we need a new strong and united government to get ahead together in the face of the challenges and enormous promises that this blessed country has. We are going to get ahead and we are going to do well," he declared. Chaves promised initiatives to improve the country's economy and promised that if he reaches government he will govern with justice for the entire population.
Related news
The electoral process this Sunday was carried out calm and without irregularities serious, according to electoral authorities.
The OAS Electoral Observer Mission highlighted that during the day there was order and trust among the actors in the country's electoral process and that by mid-day they had received no reports of irregularities.

www.elperiodico.com