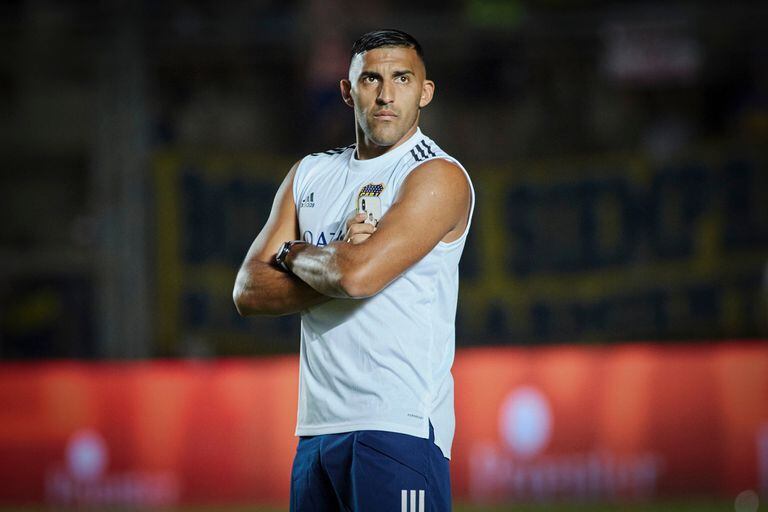 The explosive message that Ramón Ábila uploaded last Friday to his social networks externalized a conflict that could well have been resolved behind closed doors.
Although he is currently recovering from an injury (grade 1 tear, according to the official part of the club's medical department), the reality is that the striker is not in the plans. But at the same time he has a contract until the end of the year and a high salary. That is why they want to sell it, while from the player's environment they raise the possibility of a new loan to another institution. Therein lies the main focus of the problem: to give him back on loan, Boca must renew his contract. Something you don't want.
Whether for football palate or for other issues outside the field of play, at 32 years old Wanchope is aware that he will not wear the blue and gold shirt again. That is why shot against the Football Council: "Get rid of an issue that bothers you. Since to threaten and release communications wanting to leave me exposed and try to damage my image for the reason that everyone already knows, I warn you that I do not owe you anything nor am I afraid of you. They have until Wednesday to fix my issue. I'm in the locker room for anything."
Adrián Ruocco, representative of Ábila, affirmed in TyC Sports that there were concrete offers for him to play on loan in other teams. But that, given the lack of response from the Council, these clubs looked for alternatives.
Regarding the posting on Instagram, the manager explained: "Ramón expressed himself in that way because Colón is looking for a striker and given Boca's negative response, if he did not express the will to leave, Colón could go find another striker and lose the opportunity. , as lost others. I took an offer from Colo Colo, I sent by mail and Boca did not respond. A week passed and the president of Colo Colo got tired and went looking for Lucero. When a club proposes a loan, it proposes a negotiation. And if you don't answer, or don't sit down, it becomes impossible. The mail leaves a mark: the offer is there and it's sent. I can show papers."
Juan Román Riquelme picked up the glove and spoke on ESPN: "We comply with everything that we must comply with. He has returned to the club and trains with our squad accordingly. He will have to continue fulfilling his obligations as we did, and as I did as a player. He has a contract with our club until the end of the year. He went to the United States, played for two clubs. He must not be happy with how things turned out there, otherwise some club would have bought him. Now he trains with the squad. He was injured, the kinesiologists will heal him and he will have to train to the fullest".
At first, the presence of Ramón Ábila in Boca was uncomfortable. In December 2017, coach Guillermo Barros Schelotto valued his power and goalscoring instinct, but had not requested him as a reinforcement. However, one day he woke up to the news that he had been hired.
After opening the wallet to buy various players requested by the various coaches of his management, Daniel Angelici gave himself a personal taste. Something that years later he recognized. "I brought it," he said.. The forward's joking request to the manager, in the middle of Carlos Tevez's birthday ("Take me to Boca. Pay me per goal"), then became a reality.
In those first days of forced coexistence, the Mellizo marked the field and made it clear that his starting center forward was Darío Benedetto and the substitute, Walter Bou. He even opted for other alternatives, such as Guido Vadalá, before the year-end break. Already in 2018 it was Carlos Tevez who also held that position in the field.
All the goals of Wanchope in Boca
But Wanchope never lowered his arms. And just as at the end of 2017 he resigned his vacations and as soon as he signed with Boca he trained alone, and with little media coverage, at the Pompilio complex to recover from a tear and reach the preseason optimally with his new club, he also focused on achieve opportunities.
With his desire and his optimistic attitude, Ábila also managed to get into the squad. Always with a smile, the striker left behind those first sideways glances when he arrived at the club sponsored by Carlos Tevez. From the first moment, the Cordovan ratified every day that it was true that he had dreamed all his life for that opportunity and that he would enjoy it from the role that he had to occupy.
On more than one occasion his professionalism was questioned. Clearer: they point to him as a footballer with little affection for work and good eating. But as a representative of the humor of his province, he always laughed at those comments in relation to his physical build. "Maybe I look fat on TV. But I'm not fat, I'm chubby", he simplified in an interview with LA NACION.
While the social networks were agitated telling him about the injuries and the number of times he fell offside, he frequently stirred up the networks that matter: with the Boca shirt he scored 36 goals in 86 games. His average (0.43 points per game) is the second best since the retirement of Martín Palermo, only surpassed by Darío Benedetto (0.59).
After making statements with some suspicion about his departure from Boca ("It was not my intention to leave. In time things will be known and will come to light"), his time in the American MLS was very discreet. He first defended the jersey of Minnesota United (two goals in 10 games) and just six months later, that of DC United (3 wins in 12 games).
There are those who slipped that he was loaned because he ate alfajores in secret and now they pointed out that he returned from vacation with a few extra kilos. And although in his best physical moment he justified each one of the 92 kilos that he distributes in his 180 centimeters of height, it is also true that each human being channels emotions and anguish as best they can.
Wanchope comes from suffering a dramatic family situation, which he made public after Boca's victory over Newell's, in November 2020, for the Maradona Cup: "I have been beaten for several months. The pandemic took my brother from me. I had the bad luck that he took his own life in my house. Because of a depression that he never warned us about, that we never found out he had and that happens to a lot of people."
In that same story, he took the opportunity to raise awareness: "You have to tell those who go through this situation to ask for help. There are many people who will want to help and will have the need to do so. You have no idea how sad you feel. The pain of my parents, of my whole family. My house has become very sad and obviously I am here to help you. Without knowing it, we were left without a wonderful being like him and we are all very sad.
The next steps will surely be focused on advancing in the search for a resolution that satisfies both parties. But above all things, that allows Wanchope to recover her smile and optimism thanks to which he won the affection of his teammates in Boca.

www.lanacion.com.ar