The National Transportation Safety Board said its investigation focuses on snow and ice treatment procedures.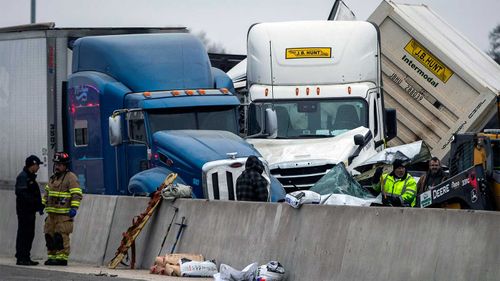 Before the accident, the road had been treated with brine, essentially salt water, used to dry the roads before cold weather.
North Tarrant Express, the private company that manages the highway, said it was following the same procedure as the Texas Department of Transportation.
"The NTE and NTE35W maintenance crews began pretreating the corridors Tuesday morning in anticipation of inclement weather, and have been continually treating while monitoring the road," the company said in a statement.
"We will continue to treat the roads over the weekend and into next week as long as the storm is active."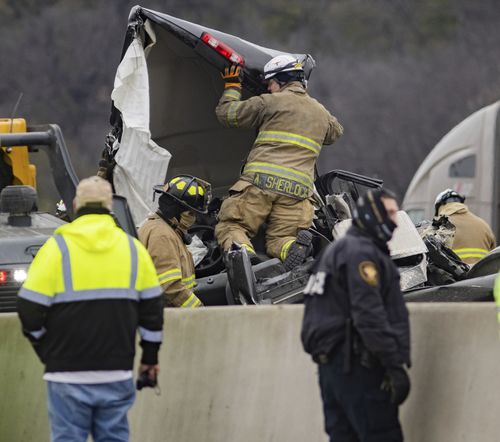 At the crash site on Interstate 35 near downtown Fort Worth, a tangle of semi-trailers, cars and trucks collided with each other and turned in all directions, with some vehicles on top of others.
"There were several people who were trapped within the confines of their vehicles and required the use of hydraulic rescue equipment to remove them successfully," said Fort Worth Fire Chief Jim Davis.
At least 65 people were treated in hospitals, 36 of whom were transported by ambulance from the crash site, including three critically injured, said Matt Zavadsky, a spokesman for MedStar, which provides ambulance service in the area.
"The road was so dangerous from the ice that several of the first responders were falling on the scene," Zavadsky said.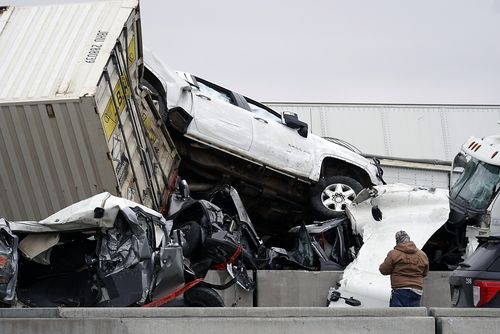 Zavadsky said his crews carried a mixture of sand and salt in the ambulances, which they used at the scene. At one point, he said, one of the ambulances was hit, but suffered only minor damage and the crew members were fine.
Many others were treated at the scene and released, he added.
The accident happened around 6 a.m. local time, as many hospital and emergency workers were on their way to and from work, so some of those involved were health workers and emergency personnel, including police officers, authorities said.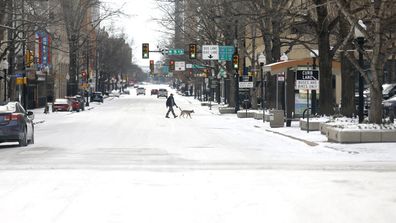 Winter storm leaves Texans without access to electricity
Texas, including Fort Worth, has been shaking through a very unusual episode of freezing weather.

www.9news.com.au