the
New south Wales
and
Queensland
The government remains at odds over how to handle a border that cuts like a knife through Tweed and Coolangatta.
A possible plan to temporarily relocate the border checkpoint amid busy
Golden Coast
The region south of the River Tweed looks dead.
Currently, the Queensland border is closed to all New South Wales people except for a small group of essential workers, creating chaos for families and businesses in the towns of Tweed and Coolangatta.
Some residents were given as little as two hours' notice to cross the border when the initial announcement of the closure was made, and many have now been forced to settle in temporary accommodation facilities, such as trailer parks.
Queensland Police Deputy Commissioner Steve Gollschewski, who is leading discussions with New South Wales counterparts, said today that border negotiations are "in an extremely difficult place."
"The challenge for us, of course, is that we are trying to stop an outbreak and NSW is trying to overcome it," Gollschewski said.
"There are some tensions there."
Gollschewski said negotiations to move a border checkpoint south of the state line raised a series of difficult and insurmountable legal problems.
"New South Wales is a sovereign state, we have no control over their legislation and what they should do.
"We thought (moving the border) was worth looking at.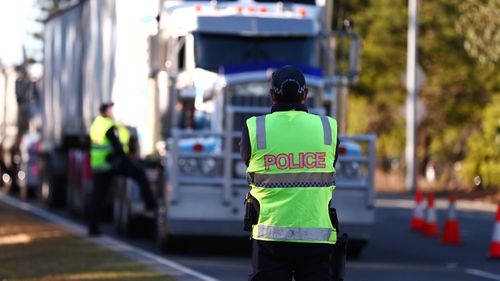 Gollschewski said he wanted to maintain the dialogue "because we know that things can change."
NSW has been regularly registering more than 1000 cases of the Delta variant every day.
There is still a travel bubble allowing travel from New South Wales to Queensland, but the restrictions are now much tighter, which has posed problems for workers, including health workers and teachers, and divided families who they live on both sides of the dividing line.
On Monday, trucks from Queensland blocked the southbound lanes of the M1 motorway in the Gold Coast and then around Tweed, protesting mandatory vaccinations to cross the border.
More than 7,000 vehicles crossed the Queensland-New South Wales border yesterday, Gollschewski said.
"Our border allows us to verify who enters and who leaves the state to be able to control that.
"There is no control over who enters the Tweed from other parts of New South Wales."

www.9news.com.au