Queensland has become the first state to declare a large part of Western Australia a coronavirus hotspot after a new case of the potentially highly infectious strain of COVID-19 was revealed.
Washington Prime Minister Mark McGowan confirmed the new case and announced a five-day quick shutdown during an emergency COVID-19 press conference today.
The positive result comes from a male hotel security guard in his 20s who worked at a hotel in Perth's financial district and is believed to have taken a second job at a rideshare company.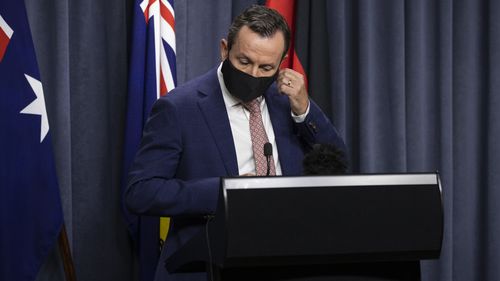 The new case is suspected to be the British variant of the virus, which is significantly more contagious.
Queensland Health said in a statement tonight that anyone who has been to the Perth, Peel or Southwest Washington metropolitan regions and arriving in Queensland as of 6pm tonight will face a 14-hour hotel quarantine. days.
"Anyone who is already in Queensland but has been in the Perth or Peel or South West regions since January 26 should come forward and get tested and isolate themselves until a negative result," the statement said.
Queensland Health said the mandatory hotel quarantine timeline may change as more information is received about the COVID-19 situation in WA.
South Australian authorities are monitoring the situation in WA, but have yet to announce new restrictions.
"SA authorities are monitoring the WA COVID-19 situation and urging South Australians to seriously consider whether traveling to WA today or in the next few days is essential, and say those who are now traveling to WA should consider returning as soon as possible. possible, "tweeted 9News reporter Harvey Biggs.
The governments of New South Wales, Victoria and the territories are expected to make announcements as they consider the implications of the new WA case.
McGowan said this afternoon that he had contacted Prime Minister Scott Morrison and the state and territorial prime ministers to inform them of the situation.
"I have recommended that any travel to Western Australia be terminated as an additional precautionary measure," he said.
WA last recorded a community-transmitted COVID-19 case in April of next year.

www.9news.com.au